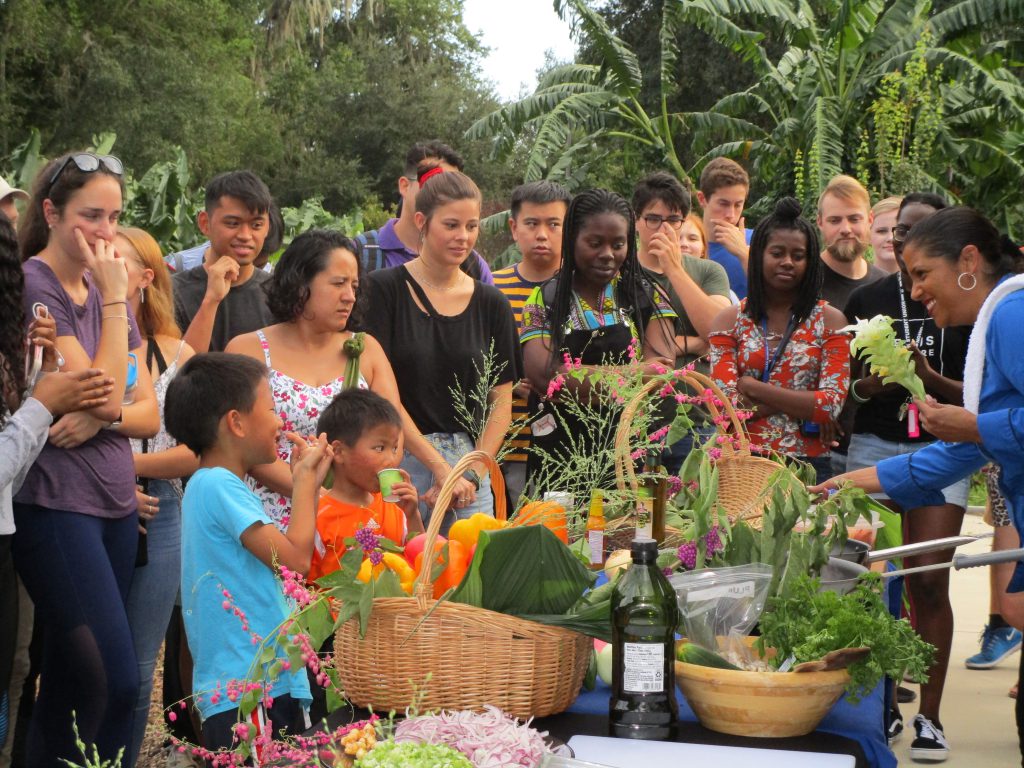 To stay up to date on our events, programs, and opportunities, follow us on Facebook and Instagram
Spring 2023 Events:
April 21, 2023 (5-7 p.m.): Spring Open House! Join us at the Field & Fork Farm and Gardens for an exploration of these hands-on agricultural teaching spaces.
Upcoming Fall 2023 Events:
None scheduled at this moment – Stay Tuned!
Recent Past Events
December 2, 2022: Join us at the Opportunities and Benefits of Heritage Foods Symposium, hosted by Santa Fe College and Florida Organic Growers! Dr. Dina Liebowitz be speaking about incorporating heritage foods into the curriculum through collaborative projects with Working Food!
October 28, 2022 4-6 pm:Fall Open House!!! Join us at the Field & Fork Farm and Gardens and the Horticultural Sciences Teaching Gardens for an afternoon of community and exploration of your hands-on agricultural teaching spaces! Shuttle services will pop you between both sites!

At Field & Fork Farm and Gardens: Taste delicious African-fusion offerings from Flavorful!

Dig for buried treasure… sweet potatoes!
Pot a basil baby and strawberries to take home and grow!
Join the Ethnoecology society to sip teas from local plants!
Connect with the researchers, interns, and volunteers that help the farm flourish!
Learn about new opportunities, internships, and classes on the farm!
Connect with the MANRRS, AISES, and renewed Agronomy-Soils club!
Haybale photo ops, and more!
6-7:15 pm Stick around for Bat Viewing with Terry Zinn!

At the Horticultural Science Teaching Gardens:

Meet awesome student clubs and connect with their adventures!
Learn more about the Horticultural Science and Plant Science majors!
Check out cool greenhouse operations!
Explore their awesome passion fruit patch and other trellised gardens!
Snag more plants and seedlings to grow yourself!

October 17-21, 2022: Food Science and Human Nutrition Food Week events! Master Chef competition, Field & Fork picnic, tasting events, and much more!
October 20, 2022: Pantry Pop-Up!
October 17, 2022: Find us at the Global Food System Institute World Food Day Event exploring challenges and solutions for food security.
October 11, 2022: Join Chef Fred Cremo for the next cooking session: Professional Techniques for the Home Chef. Learn skills and techniques for home meal preparation using seasonal ingredients!
September 22, 2022: Join Chef Fred Cremo for a cooking demo series this semester! First up: The Global Pantry. Learn to enhance meal-time flavors through sauces, pesto, and more.
September 13 and 17, 2022: Join us at the CALS Kickoff and TailGATOR events on main campus, to connect with our program and learn about all the great opportunities the College of Agricultural and Life Sciences has to offer!
SPRING OPEN HOUSE! April 22, 2022, 4-6 pm! Delicious fresh food, research chats, free plants, farm tours, tree planting, and more!
March 27 and March 28, 2022 for the Four Sisters Native Food Experience Series with Gator AISES (American Indian Science and Engineering Society) and Visiting Scholar Dr. Mae Hey, faculty at Virginia Tech and a fellow at the Center for Food Systems and Community Transformation!
November 19 – 22, 2021: Explore the Farm with an International Scavenger Hunt! Follow us on social media and head to the Welcome Kiosk on the farm to learn more…
October 1 – Nov 22, 2021: Cultural Food Connection!

Oct 24:The Challenge

Submit a 1-3 minute cooking video showing how you cook a dish that is representative of your culture! Every submission wins a free bag-o-fresh-veggies from Field & Fork!

November 5: we'll announce the top 5 videos!

Winners will receive Field & Fork t-shirts and other prizes!
Everyone will be invited to sign up (first come, first served) to receive FREE recipe bags with everything needed to cook the dishes!

November 19: Registered participants pick up free recipe bags!
November 19th-22

Recipe bag recipients will cook the dishes and share reflections on trying a new flavor!
Those sharing reflections will be entered in a raffle to win a free box of veggies and local meats!
October 11-16, 2021: Join Field & Fork, the Food Systems Institute, and the Food Science and Human NutritionDepartment's Food Week/ Gators Give and Serve Week!