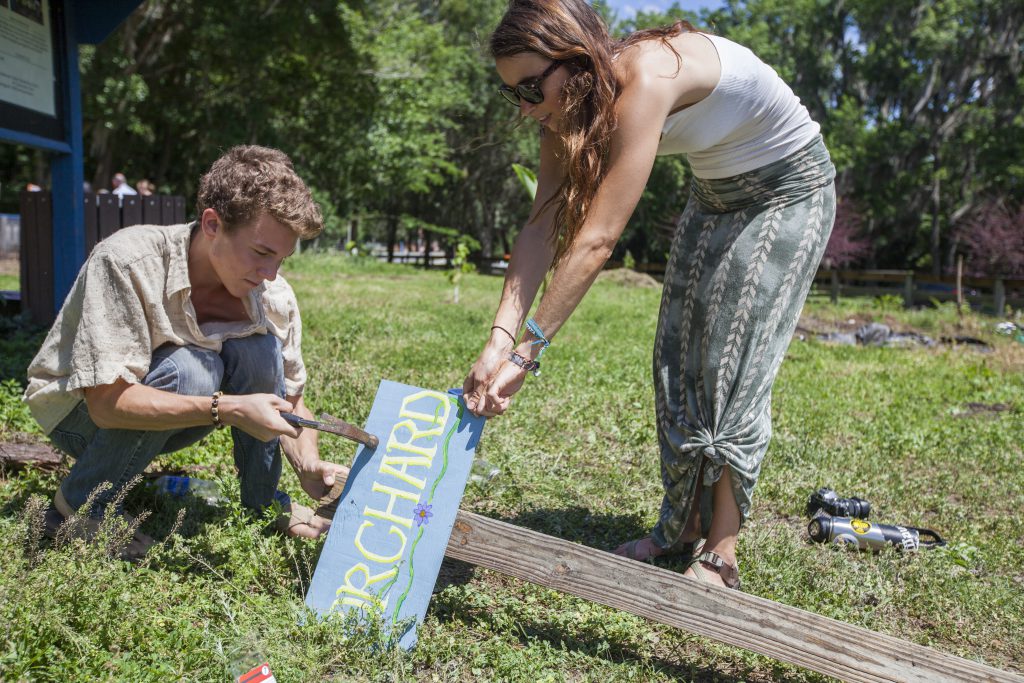 What do you produce and where does food from the Farm and Gardens go?
Our field rotations include a diversity of food, forage and cover crops. Any food produced is donated to food pantries and used for educational events, or becomes part of course work in harvest, post-harvest, processing, etc. At the Student Gardens, we grow a diverse selection of seasonal vegetables, fruits, herbs and flowers such as lettuce, beans, kale, cucumbers, parsley, tomatoes, etc.
For a look at what is growing now, check out our Facebook and Instagram pages. Students may contribute to the Farm by becoming a member of the Gator Gardening Club. Members of this club work together with Field & Fork staff producing food, managing the farm and harvesting.
Internships offered at the Student Gardens provide students the opportunity to experience farm management on a day-to-day basis. Students may also participate as a volunteer. This is an excellent option for those who need volunteer hours and have an interest in gardening and farming. If you want to learn more, visit our get involved section.
I would like to bring a group to the Farm, Gardens or Alan and Cathy Hitchcock Pantry for a tour, class or other program. What do I do?
We are excited to share our program with you. In order to meet your needs, please fill out the form available shortly to help us gain a better idea of your group's needs and interests. Email the form to Anna Prizzia, and we will be in touch to discuss options and schedule your visit.
I want to host a food drive. What do I need to do?
Once you decide to host a food drive, please contact us at fieldandfork@ufl.edu or fill out a Food Drive Intent Form available shortly. The Alan and Cathy Hitchcock Pantry staff will do their best to support your efforts and help make your event a success. Some logistics to consider, include the following:
You will need to identify a contact person who will coordinate the details of the drive and collaborate with the Alan and Cathy Hitchcock Pantry staff. It will be important to share the details of your drive as early as possible and to coordinate the delivery to the Pantry after your drive is finished.
Before you start, you will want to determine the type of food drive that makes the most sense for your organization (see Food Drive Guide for more information).
It is important to set a goal (pounds or monetary donations) that your group wants to accomplish with the drive. This will help motivate individuals to donate and assist in reaching the overall goal.
While the Alan and Cathy Hitchcock Pantry will accept any donations, please know that protein and grain foods are always most in demand. These include peanut butter, beans, canned tuna, canned chicken, pasta, rice, popcorn, granola bars, etc.
Consider having a "Specific Item Drive," where your drive is specific for one type of food (i.e. Peanut Butter Drive or Tuna Drive). Communicate with the Alan and Cathy Hitchcock Pantry staff if this type of drive interests you, and the staff can help identify which item(s) would be best for this type of drive.
It is possible that your drive may coincide with the drive of another organization and that you could combine your efforts for an even greater impact. If this is the case, the Alan and Cathy Hitchcock Pantry staff will share this possible collaboration opportunity with you.
I have food to contribute to the Pantry. Where can items be donated?
Items can be donated at the Alan and Cathy Hitchcock Pantry during open hours. For large donations, please e-mail fieldandfork@ufl.edu to coordinate options for drop-off.