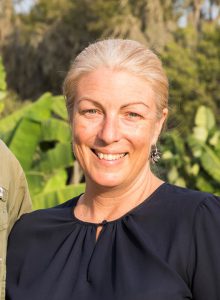 Anna Prizzia – Program Director and Campus Food Systems Coordinator, aprizzia@ufl.edu
Prizzia oversees the Field & Fork Program and works as the campus food systems coordinator for the University of Florida. She has 15 years of experience in sustainability and food system efforts, including working as statewide coordinator for the Florida Farm to School Program, management of sustainability efforts with institutional food service at UF, and serving on the boards of Slow Food Gainesville and the Alachua County Nutrition Alliance. Prizzia is the president of the board and co-founder for Working Food (formerly Forage), a non-profit focused on supporting and sustaining local food efforts in North Central Florida. She received her B.S. in marine biology from the University of North Carolina, Wilmington and her M.S. in wildlife ecology and conservation with a certificate in tropical conservation and development from the University of Florida. She served in the Peace Corps at Vanuatu from 2004 to 2005.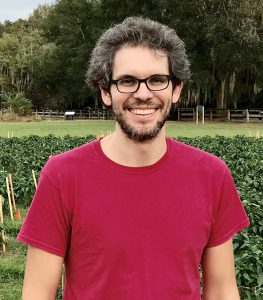 Dr. Gabriel Maltais-Landry – Academic Liaison, maltaislandryg@ufl.edu
Gabriel's work focuses on the effects of agroecological practices on soil fertility and soil health. More precisely, he works on the potential of cover crops, organic amendments and livestock integration to improve nutrient management and agricultural sustainability in a variety of agroecosystems. Originally trained as an aquatic biogeochemist, his work shifted towards nutrient cycling in agriculture during his PhD, which focused on the effects of cover crops and organic amendments on soil phosphorus cycling in California. His work expanded to include how nitrogen and greenhouse gas emissions were affected by manures and cover crops during his postdoctoral position in British Columbia. His work now embraces the complexity and uniqueness of Florida's diverse agroecosystems.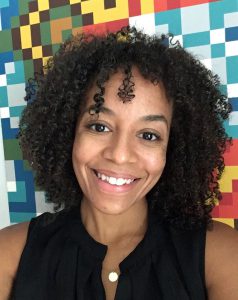 Roselind Brown – Assistant Director for Care, brown917@ufl.edu
Brown, MS, is a certified health educator dedicated to developing individual and community support services, resources, and education. Roselind received an M.S in Public Health from Western Illinois University, where she served as a Coverdell Community Economic Development Fellow from 2017-2019. Previously, she worked as a health promotion specialist with the University of Florida, a placement officer for Peace Corps headquarters, and served as a health volunteer in South Africa. During her free time, she can often be found in her garden or biking around town.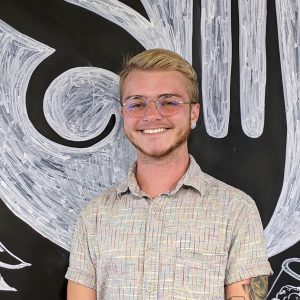 Benjamin Cook – Pantry Operations Coordinator, be.cook@ufl.edu
Ben (he/him) is one of two coordinators at the Hitchcock Field & Fork Pantry. He oversees the daily operations and works with campus and community partners to develop programming for the pantry. Ben has a BA in biopsychology from New College of Florida and has worked in several social and community service roles. Outside of work, Ben enjoys bike touring and bikepacking, trivia, and making sandwiches.
Donors
Our donors are an important part of our team. Their support allows us to develop a robust program for our students and faculty.
We are particularly thankful for the following donors and their generous gifts to the Field & Fork Program:
Alan and Cathy Hitchcock
Black Kow Compost
Publix
Rural King
Employment
We have no openings at this time.
Internships
We have several work study positions, as well as for-credit and volunteer internships available each semester in the Field & Fork Program. To learn more about our internship program, open positions and how to apply, please visit the internships page.