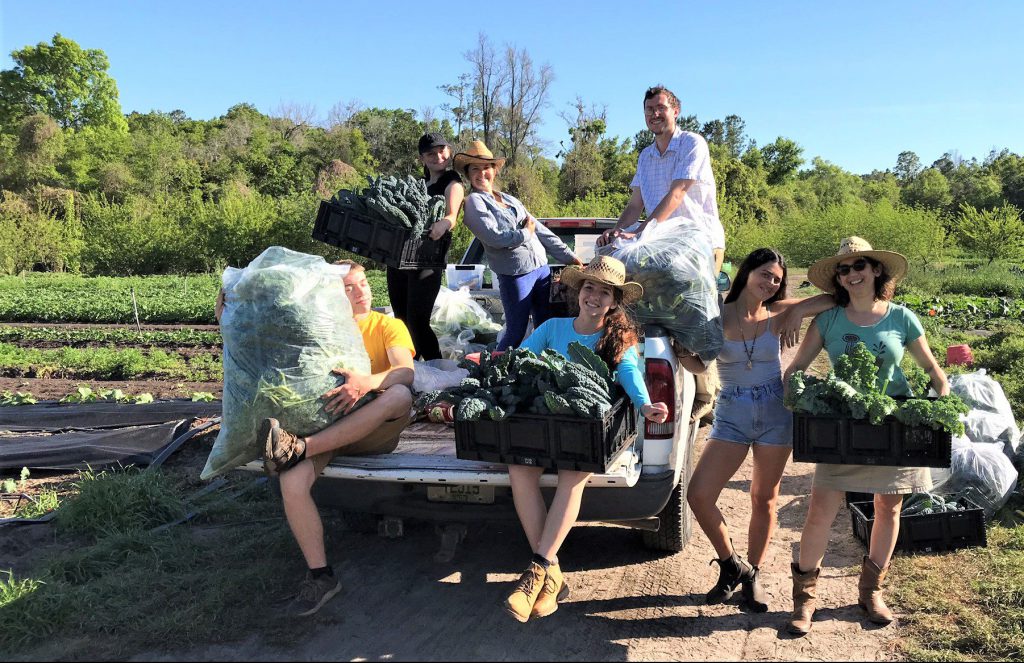 The Field & Fork Program offers internships every semester for UF undergraduate students looking for work experience, college credit, or the chance to explore the practical and applied components of our food system.
Spring applications are closed, but stay tuned for Fall 2021! To apply, fill out the Field & Fork Application, and send it along with your resume to Dina at dinalieb@ufl.edu. Applications are reviewed on a rolling bases, so the earlier you apply, the better! 
Interns have the opportunity to work in the field learning all aspects of producing food for the Alan and Cathy Hitchcock Field & Fork Pantry on campus, to network with community organizations and industry partners, and to be part of a diverse team learning and growing together.
All interns develop personalized learning objectives in collaboration with Field & Fork staff, and join in weekly intern meetings in which we read and discuss a series of topics concerning sustainable food systems. We are looking for a commitment of about 10+ hours a week for the duration of the semester, so that we all get the most learning and productivity from the experience.  We work in 3 hour shifts, all during weekdays (no weekend work for the most part!), so bear that in mind as you're considering applying! We try to be flexible about timing, but it can get tricky with a heavy course load.
Interns earning course credit will also spend part of their time focusing on a specific project. Projects may vary by semester, but here are a few examples:
Compost: Working with industry partners, research and manage an efficient composting process on-site to feed farm soils.
Harvest: Oversee harvest, post-harvest processing, and delivery to Alan and Cathy Hitchcock Pantry.
Propagation: Held establish and manage a greenhouse to grow seedlings for the farm.
Outreach: Develop and conduct an engaging and fun social media and outreach campaign.
LA Urban Farms: Work with industry partners to manage vertical grow towers around campus.
International Forest Garden: Enhance and grow the diverse agroforestry space.
Heirloom Collard Project: Working with community partners, help conduct and share information about variety trials for 20 varieties of heirloom collards. 
We prioritize providing internships for students looking to further their academic program through for-credit internships, however we also offer a limited number of paid internships. Please feel free to reach out to Dina with any questions or to discuss opportunities. We're looking forward to working with you!