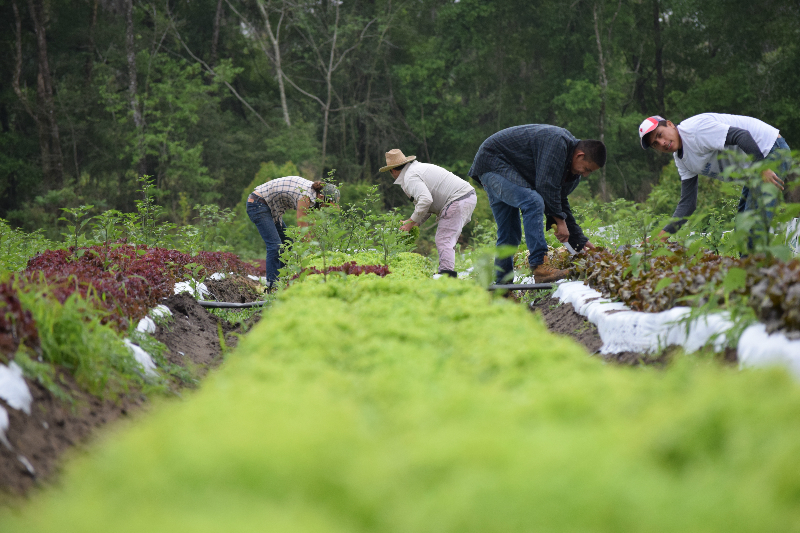 The Field & Fork Program welcomes community members to join us in our mission. We value you and your time, and would love to have you participate with the Field & Fork Program. Collaborations can be as simple as collecting non-perishables for the Alan and Cathy Hitchcock Pantry on campus, or more hands-on such as spending a few hours a week in our Gardens as a volunteer.
We also welcome collaborations and ways to connect our work beyond the UF campus. In doing this, we work with community organizations, industry, agencies and individuals to share information and resources according to their needs. Examples include developing internships for students to serve community organizations, connecting departments with service learning opportunities, and offering presentations, workshops and demonstrations on gardening, local food, cooking, financial planning and nutrition.
If you have an idea for how to collaborate with the Field & Fork Program, please email Anna Prizzia. If you wish to bring a group to the Farm, Gardens or Alan and Cathy Hitchcock Pantry for a tour, please fill out the form available shortly, and email it to Anna.
Some of our past presentations can be found here.
To stay up to date on our events, programs and opportunities, follow us on Facebook and sign up for our email list available shortly.
Volunteer
You can host a food drive for our Pantry or volunteer at the Farm or the Gardens to be a part of our sustainable food system. You can also volunteer at our events. This provides an enriching opportunity to gain knowledge about sustainable food systems. To volunteer or learn more about volunteer shifts and opportunities in the garden, please click here:

If you would like more information on other volunteer opportunities, please email Anna Prizzia.
Donate
If you are unable to assist directly with the Farm or Gardens, another way to get involved is to donate to the Program. There are two ways to donate to the Field & Fork Program. The first way is through a monetary donation. The second way is to donate in-kind items for the Farm and Gardens or non-perishable food items or toiletries to our Alan and Cathy Hitchcock Pantry on campus. If you have questions or would like to discuss a gift to our Program, please contact Katherine Davies. To make a tax deductible contribution, please visit our donate page.